Sloane's Froglet Citizen Science Monitoring Program

You are invited to an evening with Sloane's froglet, a very special Thurgoona local who needs your help.
Hear about the Sloane's froglet conservation program
Learn how to identify and record frogs using FrogID
Join Sloane's Champions and help us save Sloane's froglet
Be sure to wear warm clothes and bring a torch!
Coffee and tea will be available
Note: If you can we recommend downloading the FrogID mobile phone app. beforehand and joining the "Slone's Champions" group.
When: 6:00 (for a 6:30pm start) to 9:00pm, Friday 21st of June 2019
Where: Thurgoona Golf Club, 1 Evesham Place.
RSVP: By 19 June to [email protected]
Presented by NSW Office of Environment and Heritage and Woolshed Thurgoona Landcare Group.

Click here for a printable flyer
(Photo: Dave Hunter)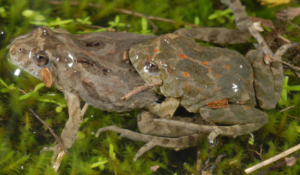 How to get FrogID and join Sloane's Champions group
You will need to have access to a Smartphone (iOS or Android)
Download the FrogID application onto your Smartphone
Create a personal profile. You can do this in two ways:

Navigate to the FrogID website from the FrogID app on your phone (open the app., click on "profile", and then click on the "click here to explore website" tab) OR
Go to the FrogID website from a desktop computer. Click on "login". Choose to create a new account.

When creating an account, there will be a field to "join an existing group". Search for "Sloane's Champions" and join the group.
Finalise your account.
Start recording and uploading data!
Note: like many apps, downloading FrogID and using all its functions uses data. Generally, uploading and downloading content through is a WIFI network is the quickest and cheapest option.
If you want to know more about FrogID, visit the following link: https://www.frogid.net.au/