This brief note documents some riverbank plantings on Hawksview and evaluates their effectiveness in relation to biodiversity aims. Plantings occurred in stages along the NSW bank of the Murray River, below Heywoods Bridge.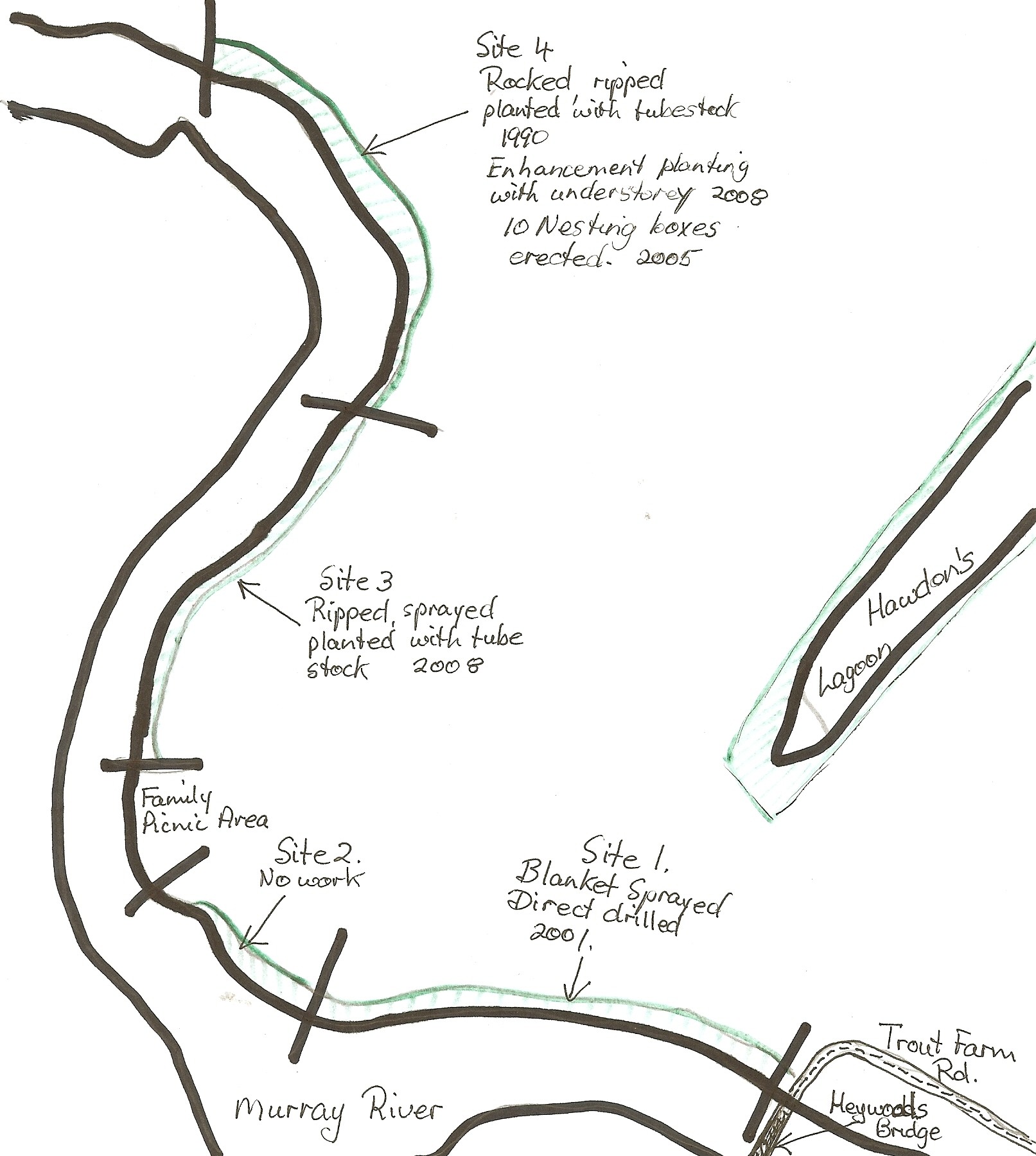 Riverbank Erosion Control works were undertaken on Hawksview in 1990. Funding was by the NSW Dept. of Water and Energy.
Large rocks were placed along a bend in the Murray River approximately 1600 - 2000 m downstream from Heywoods Bridge (Site 4, location map). The 15-30m wide strip was fenced, ripped and planted with tube stock to predominately River Red Gums, some Silver Wattles and a few River Bottle Brush. The aim was to stop further river bank erosion due to high water flows from Lake Hume (see photos 1 to 3 below).  Note the large dead trees (stags) in all photos, particularly, photo 3, that we noted on 06/01/2014.
Photo 1: Site 4, rocked site, ripped and fenced, looking downstream (1990).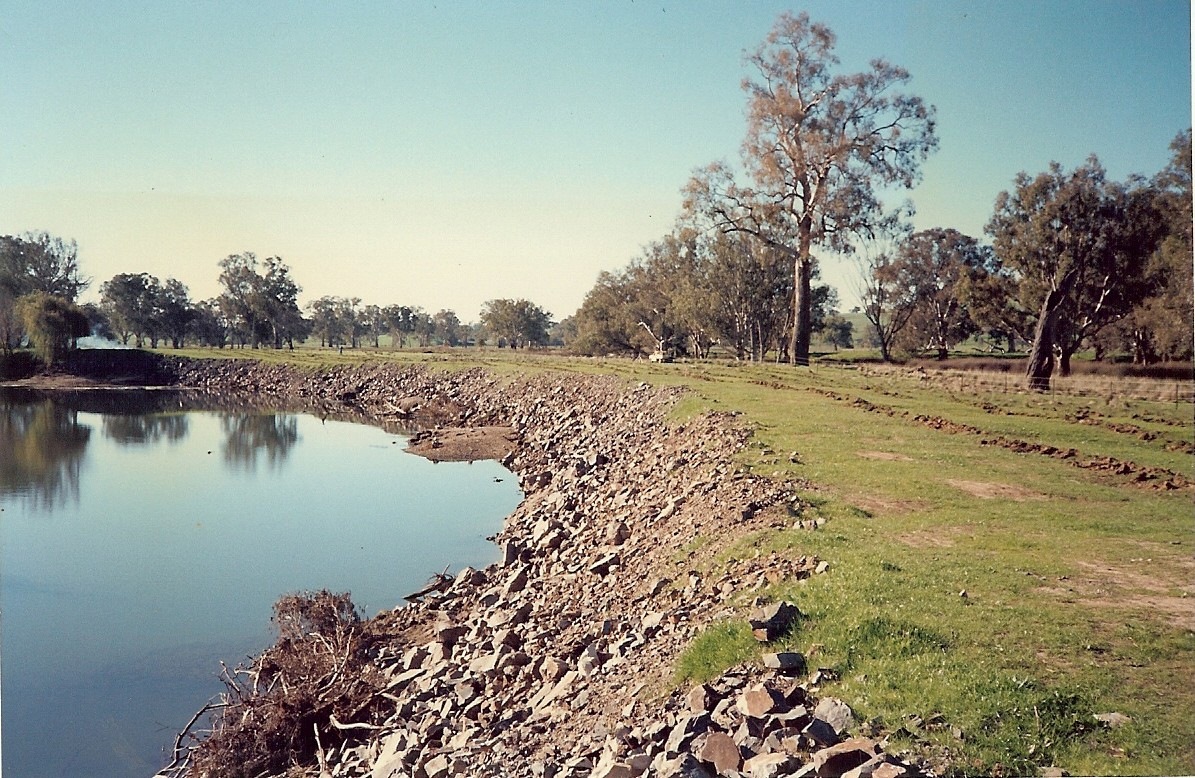 Photo 2:  Site 4, rocked site, riverbank, looking downstream (1990)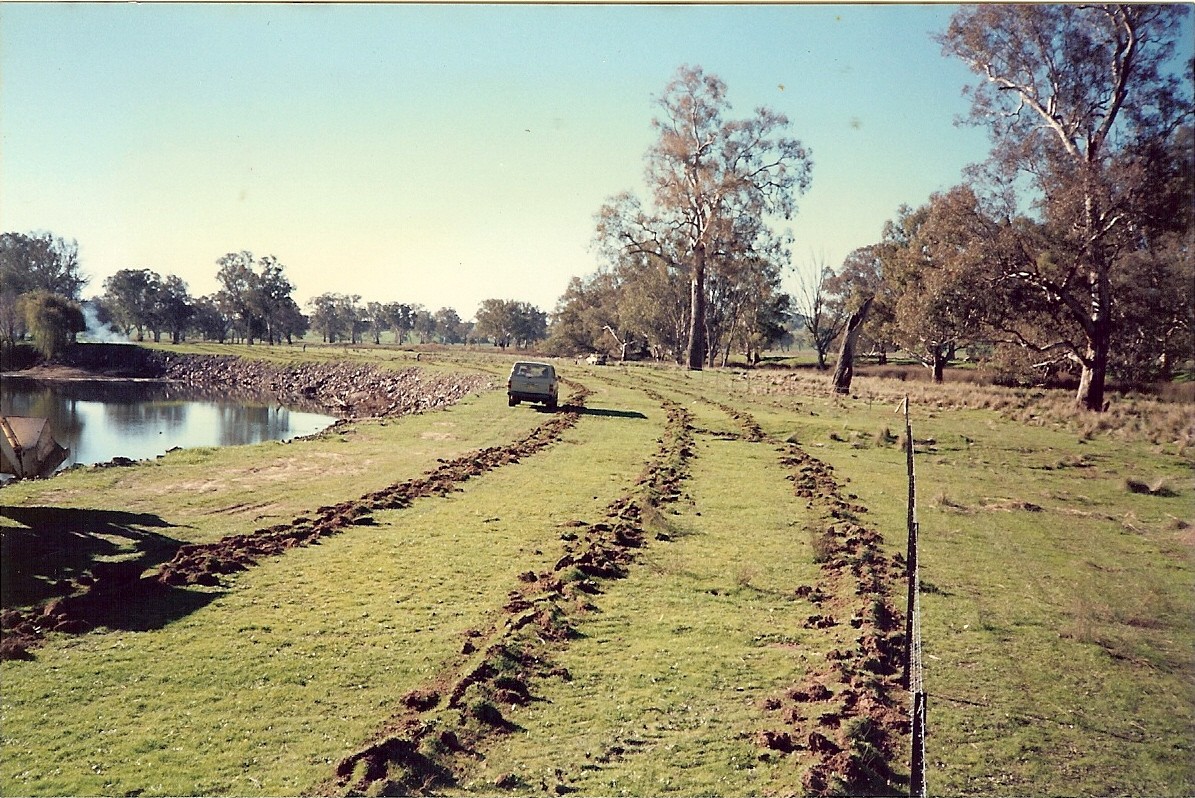 Photo 3: Site 4, rocked site, ripped and fenced, looking upstream (1990)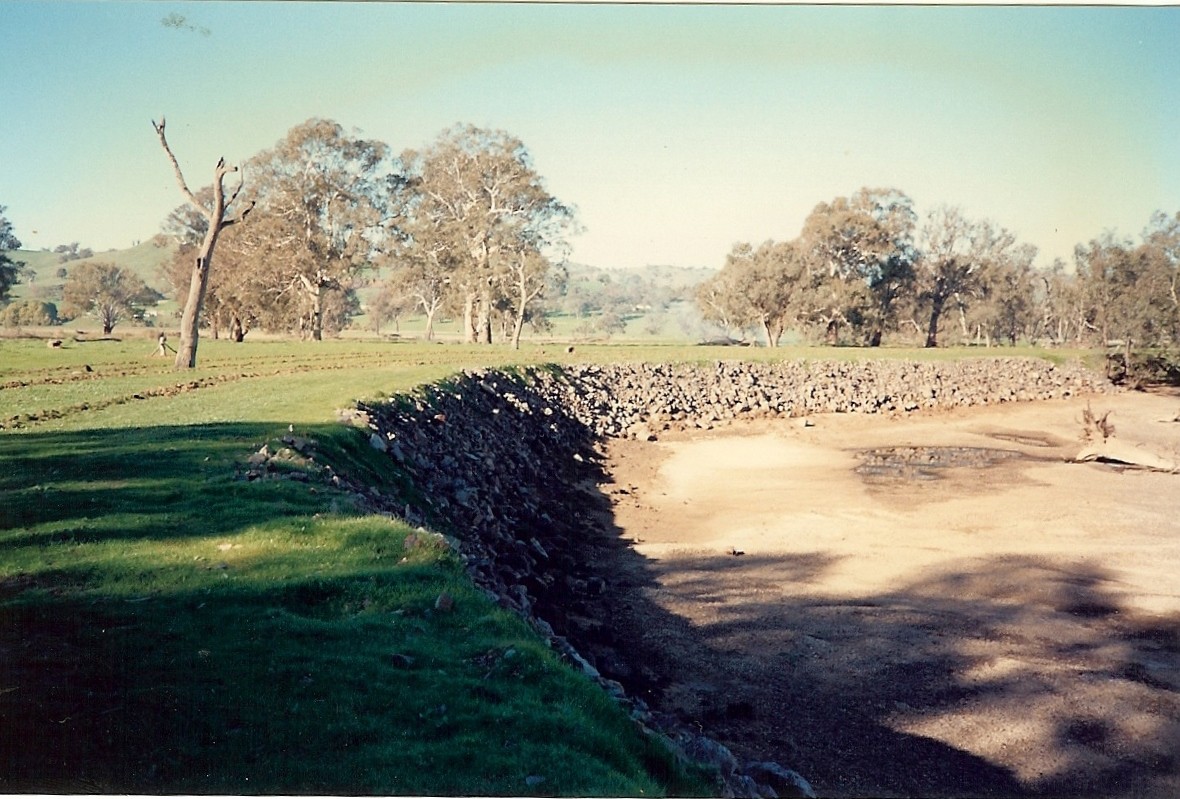 Two more riverbank sites were established. In 2001 Site 1 was fenced, blanket sprayed and direct drilled and in 2008 Site 3 was fenced, ripped and planted with tube stock. Site 2 was left out as the river bank was deemed too steep to effectively fence off. These areas were part of the Murray River Stream Bank Restoration Project. Funding was again by .NSW Government Department of Water and Energy. It took 2-3 years for the vegetation to establish in Site 1 and the resulting cover is good despite cattle getting in soon after germination when the river was low. In 2008, some understorey enhancement planting with tube stock was also undertaken at the original 1990 rocked site.
Photos 4 & 5 Site 1 Before and after restoration.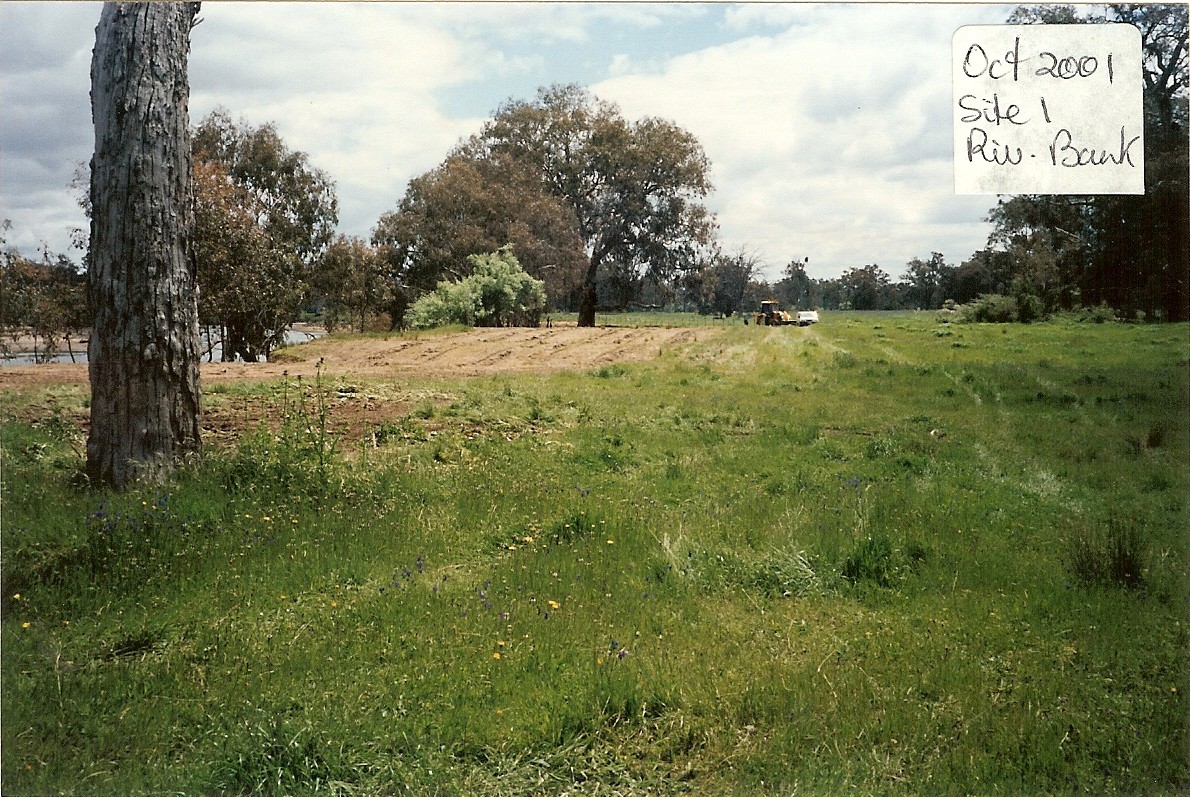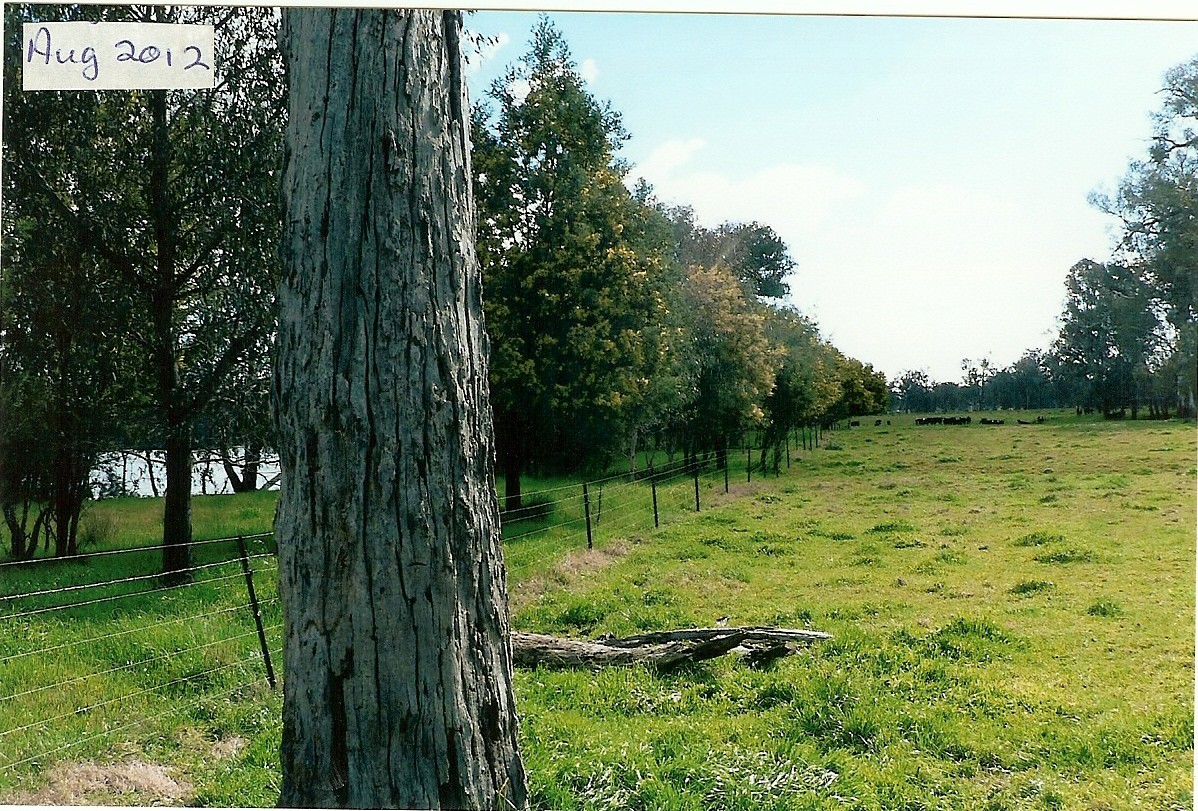 Photos 6 & 7 Site 3 before and after restoration.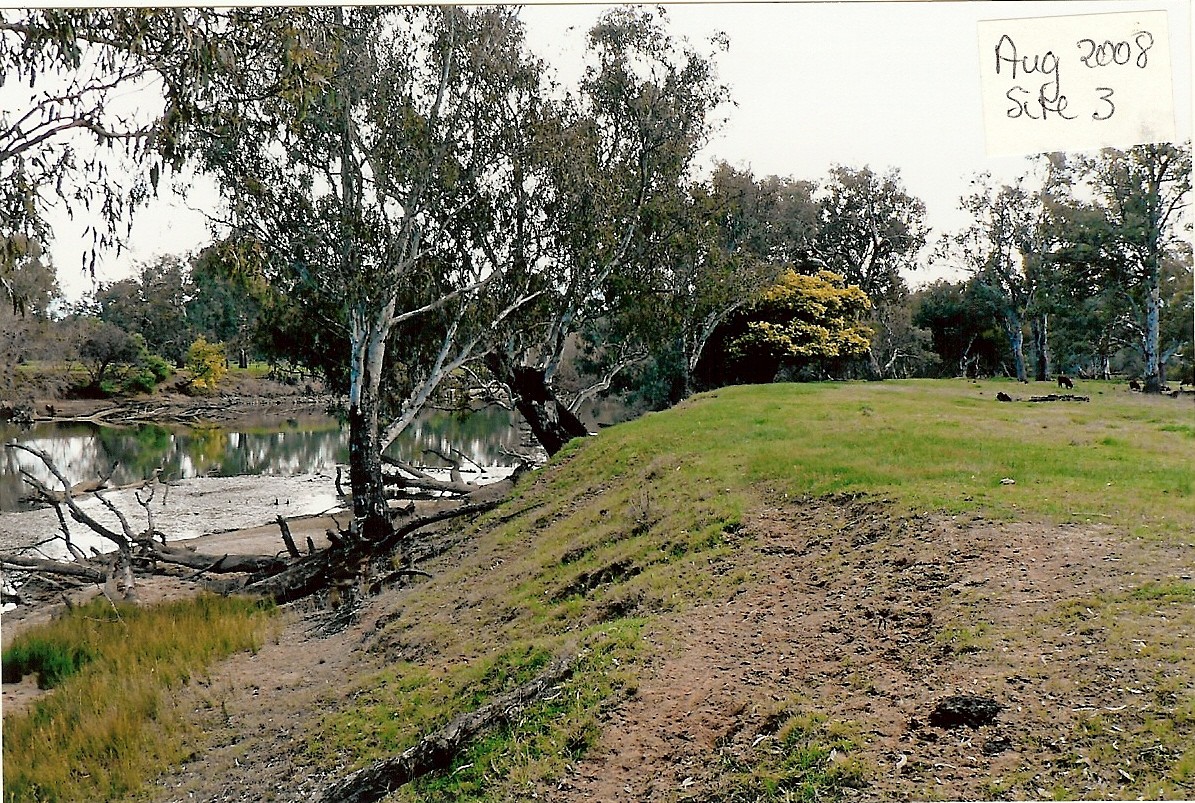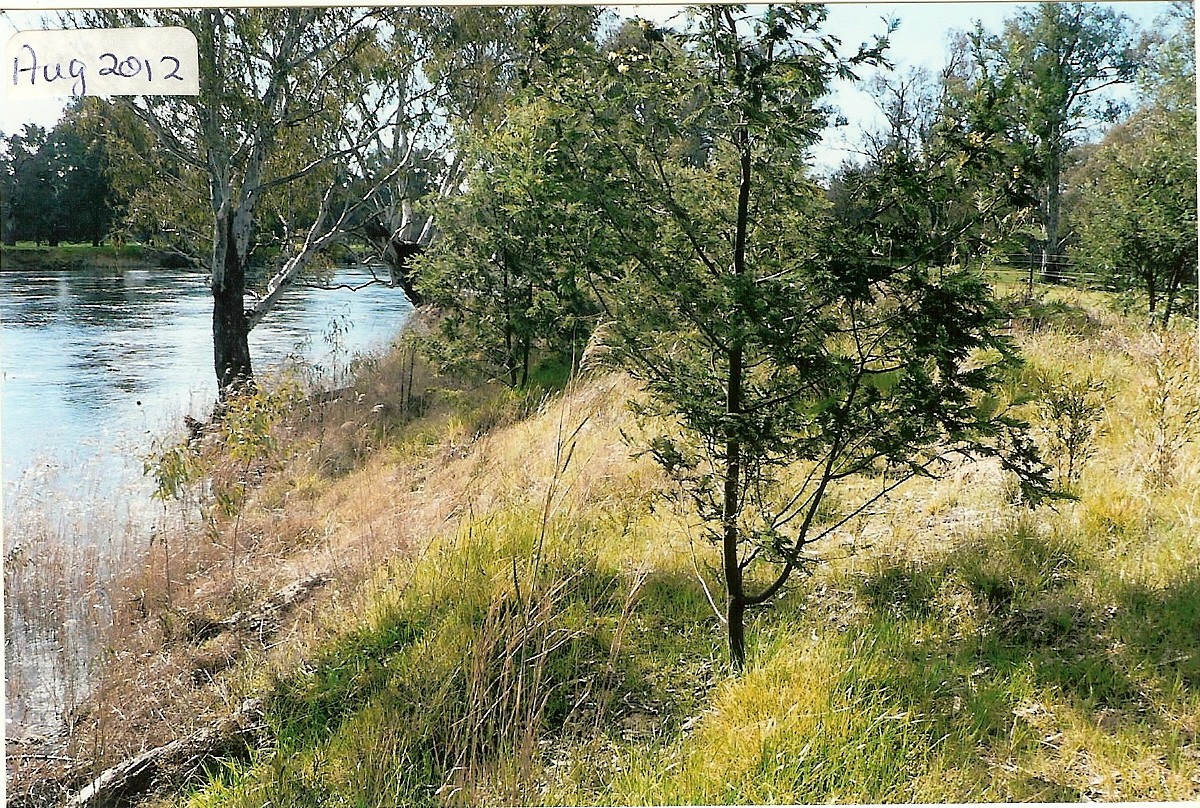 Nesting Boxes
Ten (10) nest boxes were acquired from the National Environment Centre (NEC) Thurgoona for installation in Site 4 in 2005 with the aim of further increasing biodiversity. These were installed by Woolshed Creek Landcare Group members and other volunteers.
The boxes had two sizes of holes, small and larger, and were designed for birds. We were also hoping that Sugar Gliders might use them. They were nailed to tree trunks at a height of 2-3m.
The boxes were checked during the Thurgoona Bioblitz in 2012 and again on 6 Jan 2014.
Results of the nest box monitoring done in Jan. 2014 are shown in Table 1.
Nesting Boxes

 

 

 

 

 

 

 

 

 

 

 

 

 

 

 

 

 

 

 

 

 

 

 

 

 

 

 

 

 

 

 

Box No.

419

609

3rd along

611

66

594

434

?

435

425

 

 

 

 

 

 

 

 

 

 

 

Inhabited?

No

No

Yes

Yes

?

Yes

No

No

Yes

Yes

 

 

 

 

 

 

 

 

 

 

 

Comments on 6th Jan 2014

Pulled down for repair

Pulled down for repair

Bird's nest, grass, white feathers, chewed entrance

Chewed entrance

Too high to access?

Possum. Box will get squashed by growing tree

Box on the ground

Leaves, box will get squashed by growing tree

Redback spiders, box needs removal
What have we learnt?
Boxes placed in the V between the trunk and a main branch of the young trees were being crushed as the tree grew. One (1) had fallen down,

Boxes with "extended verandas" over the entrance hole could not be viewed with the pole camera, necessitating a "climb via ladder" and removal of the lid (difficult) to see inside,

Brush Tail possums/birds and spiders/insects had inhabited our boxes,

Scraping and chewing around the edges of the entrance holes indicated something had used the box (possums likely),

One box had a few centimetres of dead leafs (possibly a glider nest),

No gliders were present, perhaps because of the ready availability of mature trees nearby with plenty of natural hollows,

Maybe the entrances to the boxes could have been better orientated away from the afternoon sun; facing the south/south east,

Newer boxes with a backing board attached to the main trunk (Lake Hume Spillway glider site, 2013) seemed less liable to damage as the trees grow and easier to monitor,

It may be a good idea to remove, repair and relocate these boxes to another site devoid of mature hollowed trees,

The sites are more attractive to wildlife now that there is a good range of understorey and wattles for a food supply.

At least 4 River Red Gum seedlings could be planted next winter at Site 2 using stock proof tree guards to eventually provide a corridor for Squirrel gliders between Sites 1 and 3. Nesting Boxes could be put in them in 5 – 10 year's time.
All sites now are considered a major biodiversity improvement and a valuable riparian link adjacent to aged River Red Gum open woodland.